Dear All,
PLEASE NOTE:  All Academic Success Workshops are offered on Zoom until further notice. The workshops are open to both ASAP and non-ASAP students.
WHEN ARE THE WORKSHOPS SCHEDULED?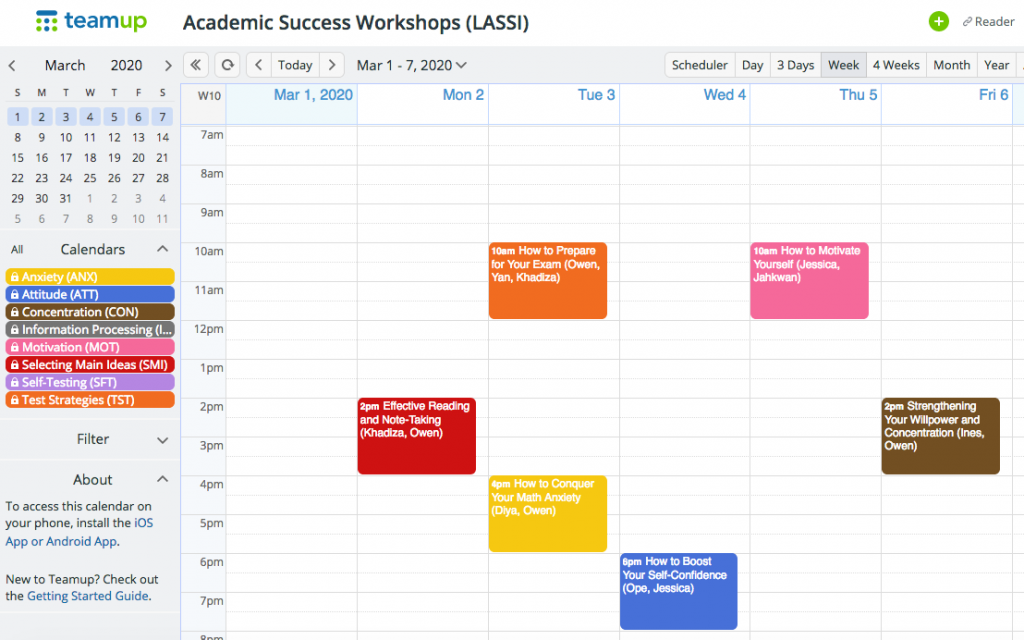 Please consult the Teamup calendar below for the workshop schedule:
http://tinyurl.com/LASSIworkshopcalendar
HOW DO I SIGN UP FOR THE WORKSHOPS?
Please watch the video or read the instructions below.
To sign up for the workshops, please click on the Signup Genius links below. Make sure to register as the workshops are capped and you will only be notified of changes and receive reminders if you have registered. The workshops are grouped based on the LASSI scale they belong to. You can consult the attached fliers or the list of workshops under the "Home" menu to see which workshops belong to which scale.
General Academic Success application workshops -links to Signup Genius:
http://tinyurl.com/LASSIanxiety
http://tinyurl.com/LASSIattitude
http://tinyurl.com/LASSIconcentration
http://tinyurl.com/LASSIinformationprocessing
http://tinyurl.com/LASSImotivation
http://tinyurl.com/LASSIselectingmainideas
http://tinyurl.com/LASSIselftesting
http://tinyurl.com/LASSIteststrategies
http://tinyurl.com/LASSItimemanagement
http://tinyurl.com/LASSIusingacademicresources
HOW DO I LOG IN THE ZOOM MEETINGS?
The login information to these workshops can be accessed via the Academic Success Workshop Teamup calendar, see link on top, by clicking on the workshop you want to attend. You can also access the login information via Signup Genius when you sign up.
HOW DO I SET UP A ZOOM ACCOUNT?
If you need support with Zoom, consult the videos below:
How to make a Zoom account:
How to join Zoom: